new collab with ImPulsTanz and Klangforum Wien
L U M I N O S A  I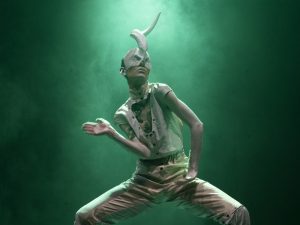 ©TimTom
July 29th, 19:00 and July 31st, 2021 14:00 & 19:00
at ehem. Gustinos Ambrosi Museum, Scherzergasse 1a, 1020 Vienna
Luminosa I is a utopian ritual, a synesthetic trip to a place where the human condition is only one of many and our sense of self is ever-changing. It is a future scenario that does not worship technological achievement and monolithic thought as its master narrative but celebrates a new sense of togetherness and exchange among various species. The ability to be malleable and transformative becomes a survival strategy, a tool to evolve on a sensory level, to invent new intimacies, pleasures and frictions.
CREDITS
Artistic Direction, Performance: Malika Fankha
Composition: Mikolaj Laskowski
Music: Klangforum Wien feat. Dark Euphoria
Dramaturgy: Asher O'Gorman
Sound Research: Andrej Barla
Lights: Gerald Pappenberger
Costume: Valerie Reding & Goran Bugaric
Makeup & Hair: Cleverson Ronaldo Cosmo
Masks: Valerie Reding & Ana Rajcevic
Moss Objects: Pauline Bouzek
Production Management; ImPulsTanz/Johannes Maile
Coproduced by: ImPulsTanz & FANKS Productions
Supported by: Prohelvetia
—°§°§°§°—
AWOL
In her new production AWOL (Absent Without Leave) Malika Fankha explores the synergies between humans and natures's mystical creatures. Elves, trolls and all kinds of hybrid forms of living might resemble the human shape yet manage to evade the notion of normativity. Due to their queer and volatile essence they challenge our thinking in stereotypes and dualities and embody the concept of identity as a malleable force. The work questions the hierarchy of corporealities in the physical, spiritual and virtual realms and advocates new ways of coexistence and kindred among species. In Awolonia, a place better than reality, residents are mercurially utopian, they keep secrets, shift shapes, change names, and appear in myriad disguises. They uncover and liberate their desires and torments, transgress boundaries, they slip into and out of dangerous and vulnerable places in an ongoing craving for connection, haunting the liminal spaces between imagined and artificially constructed borders.
SHOWS/RESIDENCIES
15.06. – 20.06.2020: Residency at Brunnenpassage Wien (A)
01.09. – 01.10.2020: Residency at SoArt Millstättersee (A)
15.10. – 02.11.2020: Residency at BUDA Kortrijk (BE)
30.11. – 20.12.2020: Residency at Tanzhaus Zürich (CH)
11.02. – 16.02.2021: Premiere and shows at brut Wien (A) — CANCELLED — video out now!
30.04. – 02.05.2021: Shows at Tanzhaus Zürich (CH) — CANCELLED — film out soon!
CREDITS
Artistic direction, performance: Malika Fankha
Costume: Goran Bugaric
Makeup: Valerie Reding & Cleverson Ronaldo Cosmo
Objects: Ana Rajcevic
Lights: Marek Lamprecht & David Baumgartner
Sound: Dark Euphoria feat. Mirza Kebo
Video: Timotheus Tomicek & Jannik Schleicher
Dramaturgical Advice: Anna Mendelssohn, Denice Bourbon
Choreographic Assistance: Asher O'Gorman
Production: mollusca productions
Dramaturgical Production Advice: Marc Streit
Coproduction: FANKS, Tanzhaus Zürich, brut Wien
Residency partners: SoArt Millstättersee (A), BUDA Kortrijk (BE), Tanzhaus Zürich (CH), Huggy Bears (A), "The Artists Are Present" Brunnenpassage Wien (A)
AWOL is supported by Stadt Zürich Kultur, Kanton Zürich, Stadt Wien Kultur MA 7, BMKOES, Prohelvetia, Austrian Cultural Forum Brussels, ACT OUT (initiated by IG Freie Theater, supported by BMEIA) and Embassy of Switzerland in Austria
—°§°§°§°—
"OXY MORON – A CYBORG UTOPIA", 2019
"Resistance is no longer sufficient. We need to turn things upside down, create new contradictions and illegibility." – Ch. Schlingensief
Oxy Moron is a play of multiple selves and their constant, seamless shape-shift between fiction and reality, magic and science, present and future. Using the modern day cyborg as a metaphorical narrative that unites both human appearance and machine-like behaviour, the work juggles with stereotypes and challenges different concepts of a perceived norm. Identities, corporealities and social status pass through a precarious transformation between self-empowerment, self-enhancement, self-optimization and self-deformation questioning the significance of the physical and the human in a digital age.
SHOWS
30.03.2019            Residency Showing at im_flieger with imagetanz Vienna
05.06.2019            Tanzhaus Zürich (Premiere)
06.-07.06.2019     Tanzhaus Zürich
09.11.2019              Swissnex San Francisco
09.-11.03.2020       imagetanz Festival brut, Vienna
CREDITS
Artistic direction, performance: Malika Fankha
Makeup/Costume/Stage: Valérie Reding
Technical Direction/Lights: David Baumgartner
Sound: Dark Euphoria feat. AC/BOY
Outside Eyes: Anna Mendelssohn, Denice Bourbon & Simone Aughterlony
Production: mollusca productions
Coproduction: FANKS, Tanzhaus Zürich, Brut Wien imagetanz Festival
Residency partners: Workspacebrussels/Kaaitheater (BE), Campo Ghent (BE), Tanzhaus Zürich (CH), im_flieger Vienna (A), Counterpulse San Francisco (USA)
Oxy Moron is supported by Stadt Zürich Kultur, Stadt Wien Kultur MA 7, Pro Helvetia, Bundeskanzleramt Österreich, Nestlé Fondation pour l'Art and the Swiss Embassy in Vienna
—°§°§°§°—
"SAUNA", 2018
SAUNA is a meta-fictional reflection about identity, cohabitation and survival stragegies. Told from the perspective of an unborn child inside a womb it questions the reliability of narration, juggles with knowledge and facts that are largely obscure and thus suggests a new metaphorical Virtual Reality.
The obsessive personality of the prenatal storyteller is driven by an unconditional claim for self-determination  while at the same time being  tied to this other body via the umbilical cord, a symbol of pure dependence and connection. Contemplating dystopian future scenarios, witnessing the trivia of everyday conversations or indulging in excentric navel-gazing, the tale evolves around the contradictions and promiscuity that shape our lifestyle: the either radically intimate or radically superficial.
CREDITS
Artistic direction, performance: Malika Fankha
Assistance: Maureen Kaegi
Stage: Jakob Neulinger, Noushin Redjaian
Sound: Dark Euphoria feat. Alexander Kasses
Photo: Maria Ritsch
Costume: Goran Bugaric
Hair & Makeup: Cosmo Cleverson
Coproduction: WUK performing arts
Production support: Huggy Bears, SUPERAMAS
Residency partners: ImPulsTanz Vienna (A), Campo Ghent (BE), Life Long Burning (EU), Cullberg Ballet Stockholm (SE), Dampfzentrale Bern (CH)
—°§°§°§°—
"PISSING EVERYWHERE IS NOT VERY CHANEL", 2017
co-produced by Malika Fankha, SUPERAMAS, imagetanz Festival
premiered March 19th, 2017, brut Vienna
In her reenactment of SUPERAMAS' show "superamas local" (1999), MF deals with the material created by a straight, hetero, white male body, its thoughts and actions and works with an expanded notion of identity by blurring, transforming, twisting and ignoring predefined conditions and cultural inheritance.
The narrative evolves around a manufactured auto-fictional persona whose driving force is shapeshifting seamlessly between personal history, metaphysical theories and customized utopia of everyday life in a culture of disposability and ephemere pleasure.
CREDITS
Artistic direction, performance: Malika Fankha
Sound: Dark Euphoria feat. Alexander Kasses
Costume: Sabine Aberle
Coproduction: Brut Vienna, imagetanz festival
Production support: Huggy Bears, SUPERAMAS
—°§°§°§°—
"MORE ISSUES THAN VOGUE", 2016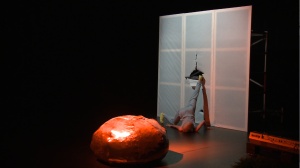 "I speak like anyone else: for clarity's sake. Sometimes the thought demands a sentence, or a paragraph, and sometimes it calls for something else; a poem, a picture, a movement." – Paul Chan, artist
In a montage of polyphonic short stories and anecdotes, Fankha's fictionalized self talks about the unbearable lightness of being a self-ironic representation of her own generation, about the awkwardness of human behaviour and the grotesque nature of the mondane. The use of acuminated imagery as a poetic means of narration, the breaking of literary templates and the satirical, comical travesty give rise to a language that juggles with effects, that explores the friction between the meaning of a word and its materiality, texture and physicality.
CREDITS
Text, sound, choreography, performance: Malika Fankha
Scenography: Jakob Neulinger, Noushin Redjaian
Movement Coaching: Asher O'Gorman
Sounddesign: Alexander Kasses
Video: Maureen Kaegi
Costume: Sabine Aberle
Coproduction: FANKS, Tanzquartier Vienna
—°§°§°§°—
"O.W.L. – the words are not what they seem", 2014
produced by Malika Fankha, supported by im_flieger
O.W.L. explores the body of the word: it highlights its plasticity and texture, reveals its musicality. Words are chosen because of their melody, their shape and the sensory reaction they evoke in both the speaker and the listener. By reconfiguring the relationship between the meaning of a word and its materiality, Fankha aims to collapse the confines of intentional speech and "pointless", non-functional vocalization. From there appears the possibility of transformation: new words emerge with their own logic which enables a sensory rather than a conceptual understanding of reality.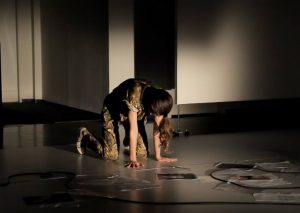 © Malika Fankha, filmstills
SHOWS
22.06.2014         im_flieger Schokoladenfabrik, Vienna
23.10.2014           Science Salon Verein 08, Vienna
08.02.2015          Artist's Kitchen, Vienna, curated by Sibylle Omlin
"Occupy the museum", 2013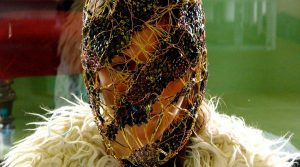 Photo © Mélisande Rouger, ImPulsTanz
This 15 minutes long performance was part of a performance parcour  at Weltmuseum in the course of ImPulsTanz Festival 2013. It looks at ways to approach the individual's boundaries and confines that appear unconsciously from the inside or are intentionally defined by the outside. It conflicts with either too many restrictions or too much freedom, self-inflicted or imposed on the individual by its environment. Values and principles are being dismissed, reinvented or forgotten. There is the constant desire to touch the unreachable, to discover the forbidden, the possibly precious, wannabe precious, the faked, the naked, the wishful truth, the superficial truth, the lie and to break rules to become visible and alive, to expose oneself to the utmost in a context full of restraints, to break through the pious silence of a museum.
Premiere: August 2013, ImPulsTanz Festival Vienna, coproduced by Weltmuseum Wien,
curated by Michael Stolhofer and Ong Ken Sen
C  O  L  L  A  B  O  R  A  T  I  O  N  S
MAUREEN KAEGI
Ongoing collaboration and shared choreographic practice since 2011 with visual artist Maureen Kaegi for her exhibitions "Still Life Without a Magnolia", "I Doubt You Share My Sensitivity", "La Faible Présence", "What Is The Shortest Unit Of Time?" which were presented in the course of Artbasel, Swiss Art Awards (CH), Paul Klee Zentrum Bern (CH), Galerie Mark Müller Zurich, Kunsthalle Winterthur (CH), Artist Kitchen Vienna (A), Vinzent Sala Paris (F). Residencies by Life Long Burning Stockholm (SE), SoArt Millstättersee (A), Schloss Oberhofen (CH), Situ Muro Portugal (PT). www.maureenkaegi.net
"VERORTUNGEN"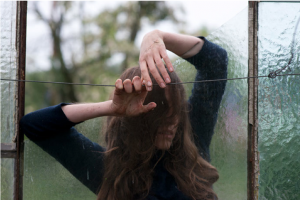 Photo © Laurent Ziegler
it drops / you drop / dead / it slips / out of your hands / it splits / my world from yours. – text excerpt © Malika Fankha, 2014
»Verortungen« is a collaboration with the photographer Laurent Ziegler. It deals with the relationship of the individual towards spatial patterns, with the localization of physical and sensual perceptions as imprints on a map, integrated into our experience of the outer landscape. The endless space of emptiness shifts by subtle ruptures, a confrontation with the living matter. Scars appear where two unequal forces collide and leave an exposed damage visible to the outside.
A selection of photographic work is accompanied by text and sound sculptures by Malika Fankha. A live performance was created for the opening and closing event of the exhibitions in Vienna and Sofia.
»Verortungen« was on display at Bildraum 01 Gallery Vienna (opening performance in the course of ImPulsTanz 2015); Paris Photo Los Angeles, Austrian Cultural Forum Washington DC, Synthesis Gallery Sofia (opening performance organized by Austrian Embassy Bulgaria) and Boris Hristov Plovdiv, (Bulgaria).
More info: www.unstill.net